Teas and infusions for the catering industry
A vital product for your business, with the peace of mind and guarantee awarded by Cafés Baqué. We select a range of intense aromas and flavours from the finest sources to the most exclusive blends.
ORGANIC TEAS
The great flavours and aromas that come from being organically grown.
Discover our wide range of organic teas that have been made with the finest ingredients from all over the world without synthetic fertilisers, herbicides or pesticides.
The fact that our teas are wrapped in biodegradable pyramid-shaped bags that break down into compost or fertiliser means they are 100% natural and environmentally-friendly.
Technical details:
Presentation
Enwrapped pyramid-shaped bags x 2 g. in box.
Format
15 units per box.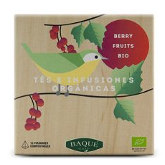 ORGANIC BERRY FRUITS TEA
A blend of organic blackberry leaves, orange peel and strawberries. A delicious fruit infusion that is both detoxifying and revitalising.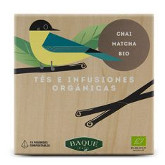 ORGANIC CHAI MATCHA TEA
A blend of organic China Sencha green tea, ginger and Chinese matcha green tea. This stimulating infusion is a delicate combination that awakens all your senses.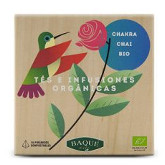 ORGANIC CHAKRA CHAI TEA
A blend of organic cinnamon, ginger and cardamom. This mildly spicy and delicious infusion allows you to enjoy all its flavours but without the theine.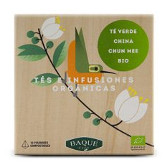 ORGANIC CHINA CHUN MEE GREEN TEA
Organic China Chun Mee green tea. One of the most popular teas in China, this tea has a smooth and refined taste that can be enjoyed at any time of day.
ORGANIC DIGESTIVE TEA
A blend of organic lemon balm, chamomile and liquorice. This tea not only helps you digest, it also has a delicious flavour.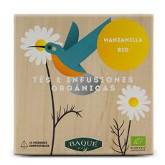 ORGANIC CHAMOMILE TEA
Organic chamomile herbal tea. Because this herbal tea aids digestion, it's the perfect choice after mealtimes.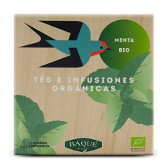 ORGANIC MINT TEA
Organic green mint herbal tea. This mint is organically grown which means it has great aroma and fresh taste as well as maintaining all the characteristics that are good for your body.
ORGANIC MOJITO FLAVOURED TEA
A blend of organic China Sencha green tea, lemon peel and mint. An extremely aromatic combination that has all the goodness of organic green tea and mint along with the exotic flavour of a mojito.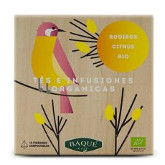 ORGANIC CITRUS ROOIBOS TEA
A blend of organic natural rooibos and the peel from both organic oranges and lemons. This relaxing theine-free herbal tea is high in vitamins and minerals and also has a pleasant aroma that aids in relaxation.
ORGANIC FLORAL SENCHA TEA
A blend of organic China Sencha green tea, liquorice, cinnamon and rose. This tea has been produced in the traditional Japanese style which lends it the fresh and penetrating aroma of roses that will conquer all your senses.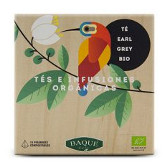 ORGANIC EARL GREY BLACK TEA
Organic Earl Grey black tea. This is the most classic of all the perfumed teas, whose stimulating characteristics make it the perfect substitute for a cup of coffee.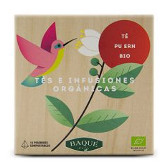 ORGANIC PU ERH TEA
Organic Pu Erh red tea. This is considered to be one of the healthiest teas and is recommended as a supplement to low fat diets. Its low theine content means you can enjoy it at any time of day.
PYRAMID INFUSIONS
Our premium selection of infusions meets the needs and high expectations of current infusion consumers.
An assortment resulting from a thorough tasting process giving us a fruity and intense range of aromas and flavours. The pyramid format also offers a series of significant advantages:
They ensure the optimum quantity.
They require less time and are more hygienic.
They ensure better preservation and maintenance of the product's qualities.
They release the aromas gradually, giving you a better infusion.
More aroma, flavour and colour in every infusion.
Technical details:
Presentation
Cardboard dispenser box.
Materials
Individually packed in packaging that preserves the aroma and prevents oxidation and humidity.
Format
20 units per box (2 g per unit).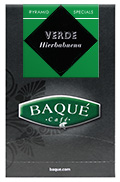 GREEN TEA WITH PEPPERMINT
A refreshing blend that enhances the delicate flavour of green tea with the aromas and flavours of peppermint.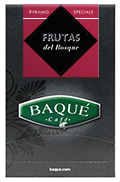 FRUITS OF THE FOREST
A blend of delicious fruits of the forest brought together in an infusion that provides vitamins, minerals and numerous health benefits.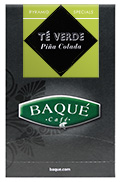 GREEN TEA PIÑA COLADA
A perfect blend that enhances the delicate flavour of the green tea and the aromas and flavours of pineapple and coconut that will take you to a faraway paradise without neglecting the healthy benefits of the tea.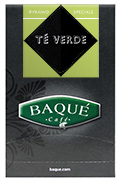 GREEN TEA
Chun Mee green tea from Jiangxi province in China. It has a light, refreshing flavour and is one of the most popular teas in China.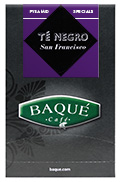 SAN FRANCISCO BLACK TEA
An exquisite black tea accompanied by hints of cinnamon, orange and bergamot. An exotic tea with antioxidant and stimulating properties.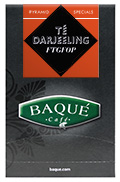 DARJEELING TEA FTGFOP
A black tea from India, characterised by its freshness, light body and a soft colour with a floral aroma.
PU ERH VANILLA
Pu Erh red tea from the Pu'er region in Yunnan (China). The perfect blend of the most famous red tea in the world and the sweet aromas of vanilla, which together with the coppery hue of the infusion make drinking this tea a truly oriental experience.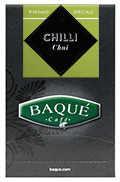 CHILLI CHAI
An exotic blend of unique flavours that will surprise you. The presence of chilli gives this tea a touch of heat, whereas the cinnamon and cloves round it off with a hint of spice.
MANGO ROOIBOS
A relaxing rooibos infusion accompanied by mango and cornflower. A sweet and fruity infusion that will help you to relax due to the lack of theine.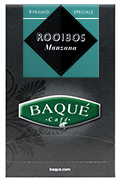 APPLE ROOIBOS
A perfect infusion that will help you to relax due to the lack of theine, characterised by a delicious apple flavour combined with a subtle caramel aroma.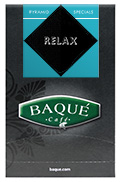 RELAX
An infusion with digestive and calming properties, characterised by its subtleness, its aroma and flavour of refreshing orange and camomile.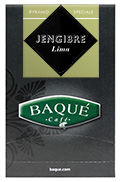 GINGER AND LIME
An infusion based on citrus, apple and ginger, an ideal combination for achieving an exotic flavour. Perfect for those who are focused on their health as it reduces cholesterol, improves circulation, relieves cold symptoms and is antioxidant.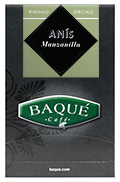 CAMOMILE AND ANISE
Two classic flavours that combine to make the perfect tea that is good for digestion. The ideal infusion for those who want to look after their health while enjoying the sweet flavour of anise.
MINT
A selection of chopped mint leaves that provide an intense flavour and many health benefits.
CAMOMILE
All the flavour of a careful selection of camomile flowers that provide a series of digestive and anti-inflammatory benefits, as well as calming properties.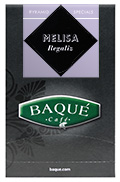 LEMON BALM AND LIQUORICE
An infusion with a particular flavour of lemon and a final hint of liquorice, which is what makes this drink so unique. Ideal for drinking at the end of the day, it helps you to relax and aids in preventing insomnia.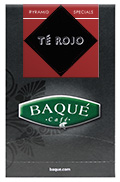 RED TEA
The stimulating effect of Pu Erh, the most famous red tea in the world, its intense character brightens up your day and strengthens your immune system.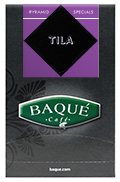 LINDEN TEA
One of the most widespread and traditional infusions that provides relaxing and calming properties.
ORANGE PASSION FRUIT
A refreshing combination that blends the citric flavour of orange with a hint of exotic passion fruit.  A perfect herbal tea for those who are looking for a full flavoured drink without the caffeine.
MORINGA AND POMEGRANATE GREEN TEA
A Misty Green tea that offers you the antioxidants found in moringa tea as well as the refreshing flavour of pomegranate and the aroma of rose petals. It's a blend that will soon become on of your favourites.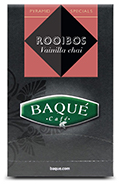 VANILLA CHAI ROIBOOS
The relaxing quialities of rooibos have been blended with the characteristic flavour of vanilla and hint of spiced chai that includes flavours of cinnamon, ginger and cardamom, among others.
PAKISTANI TEA
An aromatic blend of black tea and spices with intense flavour and aroma of cinnamon and ginger. This tea can also be steepted in milk, an ideal combination.
ENGLISH BREAKFAST TEA
Blend of black teas where African teas predominate, especially from Kenya and Rwanda. A full-bodied, robust and rich tea that pairs well with milk.
BASIC INFUSIONS
The assortment of Baqué tea bags is made up of traditional teas and infusions that ensure maximum quality for the consumer. Basic drinks, perfect for those who place an importance on natural ingredients, presented in individual tea bags that are hermetically sealed, guaranteeing the perfect preservation of their aroma and increased freshness, quality and hygiene.
Technical details:
Presentation
Individual tea bags in a cardboard box that has an easy-to-open system.
Format
25 units per box.

RED TEA
Specially recommended for digestive issues. By increasing the fat metabolism and regulating the secretion of digestive glands, it aids in weight loss. It also reduces cholesterol.

GREEN TEA
Subtle flavour and fresh leaves, its calcium and fluoride content strengthen your bones and teeth. The iron it contains provides oxygen to your cells, the potassium balances your metabolism and the zinc increases your body's defences and favours growth.

PEPPERMINT
Very aromatic with a pleasant flavour, it is used to aid digestion and reduce flatulence, facilitating the expulsion of intestinal gases. It is also used as a stomach tonic and even to regulate menstruation.

CAMOMILE
With a slightly bitter flavour, it is used to aid digestive issues and also as an emetic, a sedative and a mild diuretic. In addition, Its anti-cholesterol properties make it specially suitable for those that have issues with cholesterol.

BLACK TEA
It has an intense aroma and toning properties. It also acts as a stimulant for the central nervous system, and has an anti-diuretic effect due to its high tannin content. It is recommended for functional asthenia and as an aid in weight loss treatments.

LINDEN TEA
Its abundant phenolic compounds make linden tea the best for treating anxiety or insomnia. It is also very beneficial for those that suffer colds, flu or asthma. Its appetite-enhancing properties mean that some people drink it to stimulate the appetite.